A
W Plumbing is a plumbing company based in South Wales. The company had recently hired two new plumbers and was looking to expand the areas they served beyond their current base in Bridgend. The company recognized that its current online presence was not strong enough to support its expansion plans, so it engaged us to help them improve their visibility and attract new customers.
AW Plumbing faced several challenges as it sought to expand its reach. The company had limited resources to invest in marketing and had to find a way to reach new customers without breaking the bank. In addition, they faced stiff competition from established local plumbing companies that had been serving the region for many years. The company needed to differentiate itself from the competition and find a way to showcase its services in a compelling and engaging way.
To help AW Plumbing achieve its goals, we conducted a thorough analysis of local competitors and determined that a new website would be the best approach. We worked closely with the client to understand their services and offerings and to identify key messages that would resonate with their target audience. We created a sitemap that accurately reflected the company's services and enabled them to target specific areas with local SEO.
The website was designed to be clean, modern, and visually appealing. We used a bold colour scheme and high-quality imagery to showcase the company's services and to create a sense of trust and reliability. The website was optimized for mobile devices to ensure that potential customers could easily access the site from their smartphones and tablets.
To help drive traffic to the new website, we developed a comprehensive digital marketing strategy that included SEO, social media marketing, and PPC advertising. We also created content for the website that was optimized for search engines and designed to engage and inform potential customers.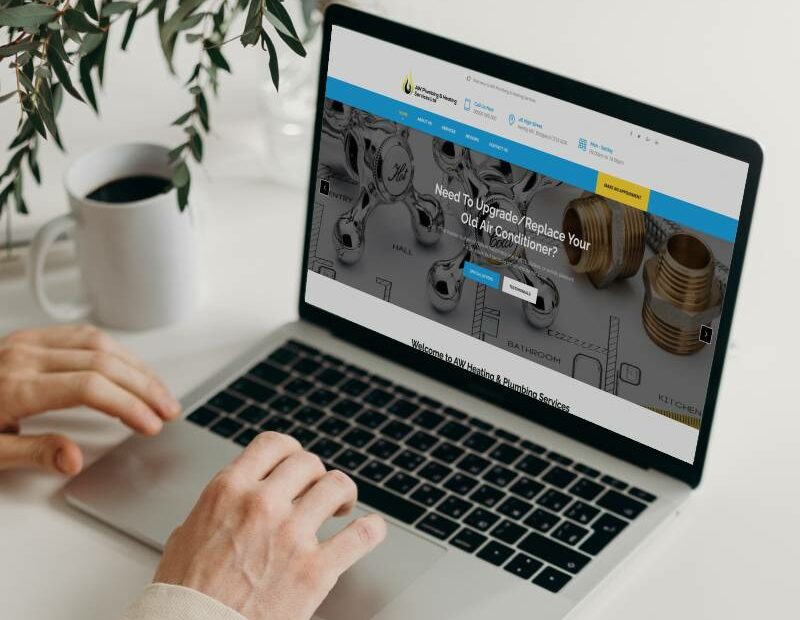 AW Plumbing Website
As a result of our work with AW Plumbing, the company was able to expand its reach and gain more consistent work from local areas. The new website helped to increase the company's visibility and to showcase its offerings in a more compelling and engaging way, which led to more inquiries and ultimately more work for the business. The website received positive feedback from customers and helped to position AW Plumbing as a professional and reliable plumbing company in the region. The company was pleased with the results of the project and continued to work with us on ongoing digital marketing campaigns to drive further growth and expansion.